4 de July de 2022
2021 Pamesa Group Press Conference Summary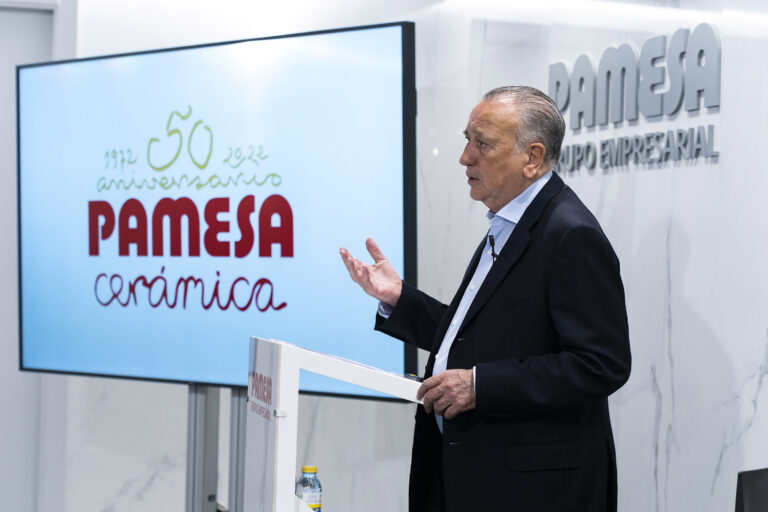 The Pamesa Business Group, which produces and sells ceramic material, atomized clay and chemical products in addition to commercialising energy, attained a solid turnover of 1.22 billion euros in 2021 despite the difficulties encountered over the last quarter of the year due to the situation deriving from the energy and raw materials crisis.
This figure represents 56% growth with respect to the 782 million euros earned in 2020. Additionally, there was 43% growth in ceramic product sales when compared to the same period in financial year 2020.
Investments
The most significant investments in financial year 2021 were used for the creation of its new headquarters and for the acquisition of Azuliber Group. Moreover, all of the Group's brands have expanded and reformed their display spaces and offices. The most significant change was made by Pamesa Cerámica which moved from its old office in Almassora to Vila-real. The new building is sustainable and has a large showroom measuring more than 3,000 m2.
This year, Pamesa will be investing more than 95 million euros in the province of Castellón. Among other investments, the Group is committed to:
• Purchasing new furnaces
• eFuel, energy based on customisable hydrogen-based fuel hydrogen
• New classification and glazing lines
• New digital decoration technology
• Manufacturing an all-new extra-thin product: XTRA
• Three new spray dryers (Amizalsa, Atommed and Azuliber)
• New mines in Teruel (Mine Elena)
Commitment to society
Pamesa Group is tax-compliant, paying a total of 105 million euros in corporate tax, gas and electricity business tax and Social Security taxes for its employees, among others. Its contribution to the effective tax rate on corporate tax is 25% and profit before taxes totalled 97 million, which is 47% more than in 2020. Moreover, the Group emphasised that "as always, the Group's profits are re-invested to make future investments".
Finally, Fernando Roig pointed out that, "you don't bring in more contributions by raising taxes, but rather by increasing economic activity".

In addition, Pamesa Group has a Corporate Social Responsibility (CSR) strategy which includes highly-demanding policies on environmental management, equality and the integration of the intellectually disabled. Thanks to this project, these people are able to get training, work and improve their skills in effort, concentration and teamwork. It is highly skilled and creative work which is integrated as a social and sustainable initiative.
Pamesa collaborates with more than 37 occupational centres in the region of Comunitat Valenciana, where more than 350 people are employed to help with porcelain stoneware assembly, meshing and adhesive work.
More centres are expected to be opened in areas at risk of depopulation such as the one inaugurated in La Todolella in 2021. As concerns renewable energies, the group has undertaken a major process at its factories to predominantly use photovoltaic solar energy to supply electricity to its production process.
The total installed power is 20.8 MWp and a total of 112,921 m2 of
solar-panelled roofs have been built, which is the equivalent of the electricity supply for 4,670 homes. Moreover, the company prevents the emission of 11,768 tonnes of carbon dioxide (CO2) into the air each year.
This high renewable energy generation capability allows Pamesa Group to manufacture ceramic products with a low carbon footprint.

Pamesa Group maintains its zero waste policy where its main areas of action are recycling sludge within the Group as well as other sector companies, recycling 100% of its solid waste and recovering the heat from the furnaces at its plants.
In conclusion, Pamesa Group, which is celebrating its 50th anniversary in 2022, has held steady thanks to its investments and work. The good figures posted by Pamesa have also been achieved considering its commitment to innovation and investment. The Group is the sixth-leading producer in the world according to the Ceramic World Review, and the first in Europe. Thus, Pamesa Group aims to continue creating jobs and making investments to keep on growing over the coming years.