5 de March de 2021
Recipe for Iberian Pork Shoulder Steak in an Express Mushroom Sauce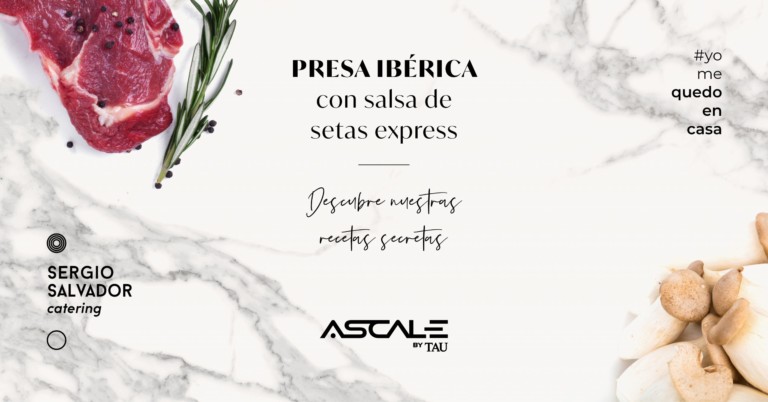 Recipe for Iberian Pork Shoulder Steak in an Express Mushroom Sauce.
To survive confinement, Chef Sergio Salvador suggests an ideal recipe you can make these days. The ingredients have been calculated for two people.
Today, we're suggesting a different kind of meat dish served with a quick and healthy mushroom sauce.
FOR THE EXPRESS MUSHROOM SAUCE
-A variety of mushrooms
-Dried mushrooms
-Meat concentrate
-Dried bay leaf
-Dried thyme
-Freshly ground black pepper
-Whole milk
-Cornstarch
-Salt
1- First, sauté the mushrooms you have on high heat.
2- Blend a few dried mushrooms with two cups of milk until well blended and then dissolve a spoonful of cornstarch in another cup of cold milk.
3- When the mushrooms are cooked well, add the dried spices except the black pepper so they toast slightly.
4- Add the milk with the blended dried mushrooms (straining before adding) and boil. Add a small teaspoon of meat concentrate.
5- Pour in the cup of milk with cornstarch, salt and pepper and thicken to taste.
FOR THE IBERIAN PORK SHOULDER STEAK
Choose the cut you want, either fileted or sliced in half longitudinally. The cooking method depends on the cut.
If you prefer fileted, cook on high heat with a little oil for just a short time as it will cook fast.
If you decide to cut the whole piece longitudinally, you'll have two pieces of the size and shape of a small whole sirloin. You will have to cook them in three phases:
1- Cook on very high heat in a non-stick frying pan so they become golden on the outside.
2- Once golden, wrap each piece in aluminium foil and roast in the oven at 180º for 5-6 minutes.
3- After roasting, let stand still wrapped at room temperature for 10 minutes.
4- Melt a spoon of butter with another spoon of olive oil in a frying pan and cook on medium to high heat, constantly bathing them in the fat for another 5 minutes.
*This meat can be served with potatoes or smoky grilled vegetables to get through the quarantine with some flavour.
A recipe from Chef Sergio Salvador