10 de March de 2021
Recipe for Marinated Salmon, Creamed Cauliflower and Asparagus.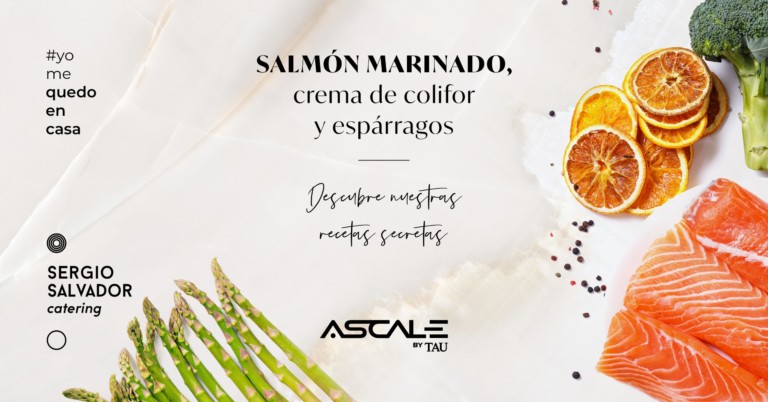 Recipe for Marinated Salmon, Creamed Cauliflower and Asparagus.
To survive confinement, Chef Sergio Salvador suggests an ideal recipe you can make these days. The ingredients have been calculated for two people. We hope you like it:
FOR THE SALMON
2 salmon loins, 150 g. each
3 teaspoons of salt
3 soup spoons of sugar
1 teaspoon of dill
1/2 small teaspoon of powdered turmeric
1/2 small teaspoon of sweet paprika
1/2 small teaspoon of powdered bay leaf
1/2 small teaspoon of powdered white pepper
1- Firstly, mix all the ingredients together in a bowl except the salmon.
2- Debone and descale the salmon, coating it well with the mix you just made.
3- Put it in the fridge for 20-90 minutes. The longer it's in the fridge, the better cured it will be with a more intense flavour.
4- Once marinated for the time desired, remove the curing mix under the faucet with running water. Rinse well so no salt or sugar remains.
5- Dry well with a clean cloth and set aside.
FOR THE CAULIFLOWER SAUCE
1/4 cauliflower
1 shallot
A sufficient amount of milk (to taste)
1 bay leaf
Recently ground white pepper
FOR THE ASPARAGUS
1- Remove the hard part of the stem and cut in half longitudinally.
2- Scald in boiling water with salt for 10-30 seconds, depending on the thickness. After that, place the asparagus in a bowl with water and ice. This process will help maintain the attractive green colour.
3- Cook slowly in a frying pan with olive oil and butter until they are well-cooked yet still a bit crunchy.
FINISHED
Place the asparagus halves on the bottom of a plate. While plating, turn the heat up under the frying pan used to cook the asparagus to quickly heat the salmon until evenly golden with the skin side down. Continuously pour the liquids over the surface with a spoon.
Place the salmon over the asparagus and serve with a few nuts sprinkled with the cauliflower sauce.
A recipe from Chef Sergio Salvador